May 11, 2009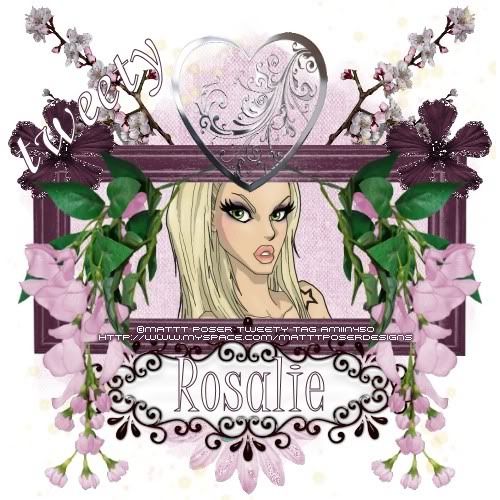 Feel free to use my tutorial in any way you would like. Although it is my ideas that will guide you, please feel free to do whatever you choose with it!
This tutorial assumes you have a working knowledge of PSP.
Needed supplies:
Scrap Kit of choice or the one I am using. This kit is by Pimp'd Tag Scraps and can be purchased at

Sophisti-Scraps
called
The Saga Character Collection : Rosalie
Masks of Choice: the masks I used came from Chelle under downloads. Her site can be found here
.
I used WSL_220.
Image of choice. I am using the wonderful work of Mattt Poser which I have a license to use. Please do not use this work with out the correct license. If you wish to get a license please visit AMI.
Open all supplies needed for this tutorial. Add the mask to your mask file or open them in PSP. I use these quite a bit.
Copy and paste pp12 as a new layer. Layers, Load/Save Mask, Load mask from Disk, choose Mask220 by Chelle.
Merge Group.
Copy and paste the frame-01. Resize to fit the tag. Copy and paste your tube or image as a new layer resize to just bigger than the frames.
Click inside the frame using your magic wand and selections, modify, expand by 5. Selections, invert. Hit delete on your tube/image layer.
Add your elements of choice. See tag for exact placement and resize as necessary. I added:
flower-03 to the top left of the tag under the frame layer. Rotate it to stick out the top. Duplicate and mirror.
dazzle-dust under the frame layer in the middle.
flower-02 to the middle top of the frame layer hanging over the frame on the left. Duplicate and mirror.
journal to the bottom middle of the frame.
flower-04 to the bottom of the frame under the journal layer.
flower-05 to the top right of the frame. Duplicate and mirror.
heart-scrolled to the top middle of the frame layer.
Add any other elements of your choice.
Drop shadow your layers and merge them where you would like.
Add your copyright at this time for the scrapkit.
Add your text of choice, I used Monotype Corsiva font for the text and Juice ITC for the word "Rosalie" in the middle of the tag.
Hope you enjoyed this tutorial! Please feel free to send me your results!
About Me
Like these tutorials? Check out my regular tutorial site here:



Want to receive some of the tutorial tags created by me?

Click to join tweetytags