January 1, 2011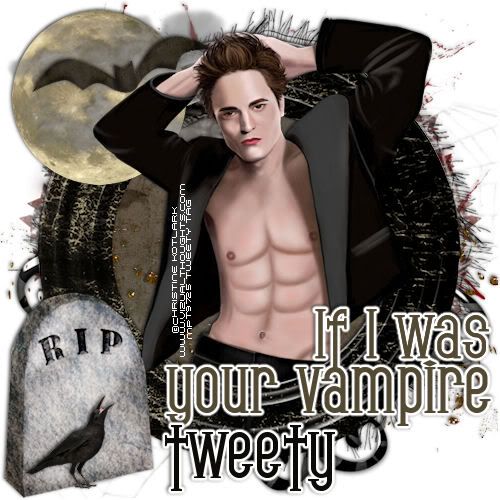 Feel free to use my tutorial in any way you would like. Although it is my ideas that will guide you, please feel free to do whatever you choose with it!
This tutorial assumes you have a working knowledge of PSP.
Needed supplies:
Scrap Kit of choice or the one I am using called If I was your Vampire. This kit is by Pimp'd at
PTMw/S
and can be purchased at
Pimp my tags with Scraps Store
.
Tube: Artwork © Christine Kotlark. In order to use the image in this tutorial you MUST purchase it from
MPT
.
Masks of Choice: the masks I used came from Vix under goodies. Her site can be found
here
.
Vix_Halloween2010No7.
Plugins: If so desired I used
EyeCandy4000, Gradient Glow
which is no longer available to purchase, but should be able to be found in the new EyeCandy 6.
Open all supplies needed for this tutorial. 600x600 tag.
Add pd-pp-01 as a new layer, add Vix_Halloween2010No7, merge group.
Add pd-frame-03 as the frame. Add pd-pp-03 as the background image for the frame. Add pd-tulle under the frame layer.
Add your tube of choice to the middle of the frame. Duplicate and drag one above the frame layer. Using your eraser tool, erase portions over the frame that you don't want showing. Drop shadow bottom tube 1, 1, 80, 5.
Add your elements of choice. Resize elements as necessary. I added:
pd-blood-01 to the top middle above the frame layer.
pd-spider-web-02 above the blood layer.
pd-swirl-02 above the web layer.
pd-glitter-01 above the paper layer but under the frame layer.
pd-moon-01 above the frame layer to the top left corner.
pd-mist-01 over the moon layer.
pd-mist-02 over the moon layer.
pd-bat over the moon and mist.
pd-gravestone bottom left of the frame layer.
pd-raven over the gravestone at the bottom.
Add any other elements of your choice. Drop shadow elements of choice. Merge any layers you choose together.
Add your text of choice, I used
gothica
n
, added the words "If I was your Vampire", then added a fat white 3.0 gradient glow and a regular drop shadow as above, and my name.
Add your copyright at this time. Resize tag if desired.
Hope you enjoyed this tutorial! Please feel free to send me your results!
About Me
Like these tutorials? Check out my regular tutorial site here:



Want to receive some of the tutorial tags created by me?

Click to join tweetytags